The old house, with the 1791 addition at the left.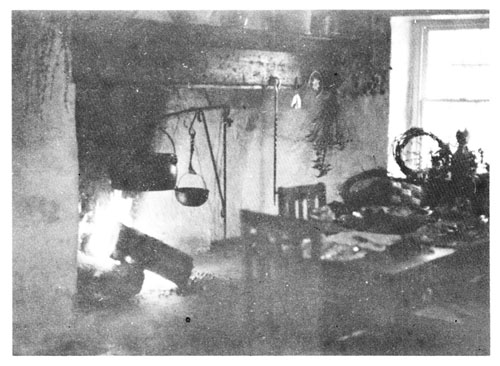 The oldest section, built perhaps as early as 1720 .
From the Quarterly.
Great Valley House is located on Swedesford Road between Howellville and North Valley Road. In 1798 Frederick Houseman owned a tract of 182 acres stradling Swedesford Road. The property had been previously owned by members of the Wilson family[1].
The Glass Tax return shows a 2-story stone house 33' x 24' with 11 windows each with 15 panes and a 2-story stone addition 24' x 19' there is a also a Stone Kitchen 24' x 17'; Stone Springhouse 16' x 12'; Log Barn 38' x 24'; and a Smith shop 24' x 18'.
In addition there was a log house of 1 floor (occupier Frederick Houseman jr.); with 2 windows with 9 panes and 2 windows with 8 panes.
Some authors propose an early date for the construction of the house, without much justification[2]. A road map from 1724 shows the house of Thomas James (the owner of the property at the time) as being south of the Swedesford Road while the existing house is on the north side.
---
References
2. Historic Resources Survey, Tredyffrin Township, Pennsylvannia, Preservation Design Partnership, October 2003, page 397.
See the deed history and the genealogy of the Wilson family.