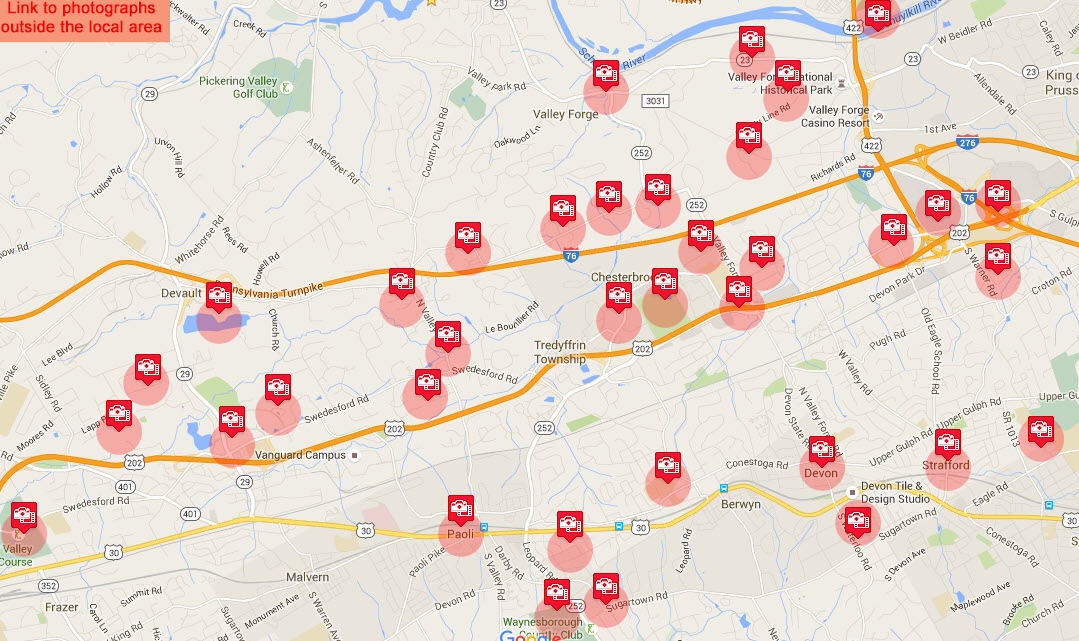 To find out how many photographs are available in an area hover the cursor over the icon; to display information about a photograph collection click on its icon.
---
The contents of this catalog are aerial photographs held by the Tredyffrin Easttown Historical Society. These photographs have been taken at an angle, rather than looking straight down. The altitude at which these photos have been taken varies as does the angle of the photo, so the area covered by the images varies considerably and may cover a much greater area than shown on the map symbol.
Historical photographs of the area taken looking straight down can be found at Penn Pilot; more recent photographs in this mode can be found at google maps.
These photographs have been purchased by the Tredyffrin Easttown Historical Society from other organizations. Researchers from the TEHS can view higher resolution copies of the photographs under the terms and conditions of the purchase agreements.
Most of the photographs in the Tredyffrin Easttown Historical Society collection are from the Society's local area. There is also a set from outside the local area.
Unidentified photos: there is also a set of photos of unidentified location. Any help in identifying the location of these photos would be gratefully received.
---
Acknowledgements: Carl H. Winnefeld jr. provided information on the Aero Service photos.